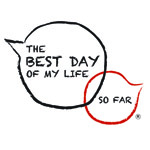 My relationship with Po Po has grown something in me. I don't know what to call it except a soft spot for seniors. I figured, if Po Po has stories that she would tell if only someone would ask, maybe she is not the only one. Besides – and maybe this is selfish of me to admit – being around seniors just makes me, well, happy.
The Best Day of My Life (So Far) is a storytelling and writing project which I launched in September 2009, with a class at Philadelphia Senior Center, as well as a blog to reach out to the seniors' families.
1 table. 1 hour 1 week. Pen. Paper. That's all it took. But what has emerged is something more complex and beautiful that I ever imagined possible. Just as the sense of trust around the table continues to deepen every week, our physical and digital community continues to broaden. Seniors have started to call our class "Partytime" (they're right!) and are regularly inviting their siblings and friends to join. Meanwhile, as their collected stories travel out of the room via the blog and with the help of Facebook and Twitter, this project has reached an international audience well beyond the seniors' immediate families.
With the talent and hard work of an amazing team of volunteers, the support of influential community organizations and news media including AARP, and generous public donations, The Best Day of My Life (So Far) has now become a 501(c)(3) organization. With your continued support, we will establish live storytelling groups across the U.S. with local facilitators, local seniors and local guests, and build an online library to share the collected stories with everyone, everywhere. Please consider making a tax-deductible donation Here or by mail: PO Box 22458, Philadelphia PA 19110.
The Best Day of My Life (So Far) is now so much more than one class, one blog, and one homesick granddaughter. To say I am excited is an understatement. I can't believe how fast and big this project is growing, and I just feel so fortunate to be a part of it from the very beginning.
To find out more, click here to see The Best Day of My Life (So Far) website. Hope you enjoy it!
To stick with us as we continue to grow, please connect with us via Facebook/Twitter.